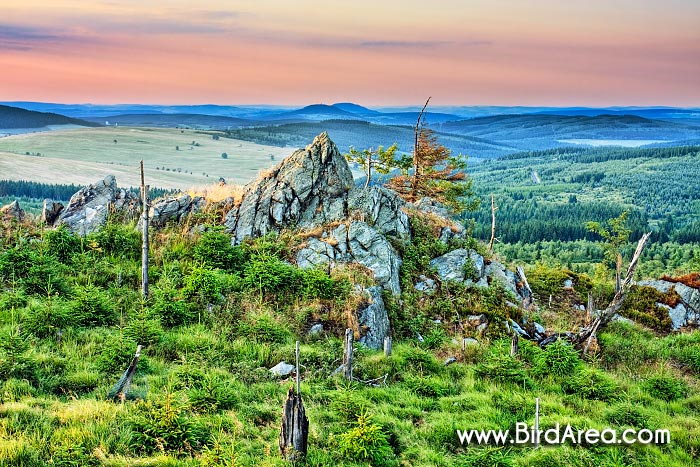 Gig_4036216 © Fotodoma.cz
Meluzína rocks in Krusne Mountains (Krušné hory, Erzgebirge), Ústecký region
Special Protection Area Novodomské rašeliniště – Kovářská (Novodomske Peat-bog - Kovarska) Bird Area
Size: 15962.6349 ha
Site code: CZ0421004
Altitude: 605 – 1113 meters above sea level
Region: Usti Region
Coordinates: 50.501389N, 13.224167E
Longitude: E 13°13'27''
Latitude: N 50°30'5''
Novodomské rašeliniště – Kovářská special protected area is situated on the uphills of the Ore Mountains (Krušné hory). Landscape of this place is characteristic by peat-bogs, remains of the forests and meadows. In this bird area is also National Natural Reserve Novodomské rašeliniště (národní přírodní rezervace, NPR), three natural reserves (přírodní rezervace, PR) and it is a part of the Ramsar Convention on Wetlands as the Ore Mountains Peat-bog (Krušnohorská rašeliniště).
The place is specially protected because of habitation of two different bird species – the black grouse (Tetrao tetrix) and the grey-headed woodpecker (Picus canus). Other species in this area are the black stork (Ciconia nigra), the corn crake (Crex crex), the European nightjar (Caprimulgus europaeus), the black woodpecker (Dryocopus martius), the great spotted woodpecker (Dendrocopos major), the woodlark (Lullula arborea), the red-backed shrike (Lanius collurio), the common snipe (Gallinago gallinago), the Eurasian woodcock (Scolopax rusticola), the green sandpiper (Tringa ochropus), the common quail (Coturnix coturnix), the Eurasian wryneck (Jynx torquilla), the meadow pipit (Anthus pratensis), the whinchat (Saxicola rubetra), the ring ouzel (Turdus torquatus), the common rosefinch (Carpodacus erythrinus), the red crossbill (Loxia curvirostra), the spotted nutcracker (Nucifraga caryocatactes) and the common raven (Corvus corax).
Amongst birds of prey occurs the western marsh harrier (Circus aeruginosus), the hen harrier (Circus cyaneus) and the common buzzard (Buteo buteo). From owls lets mention the Eurasian eagle-owl (Bubo bubo), the Eurasian pygmy owl (Glaucidium passerinum), the boreal owl (Aegolius funereus) and the tawny owl (Strix aluco).
Ptačí oblast Novodomské rašeliniště – Kovářská (next information in Czech language)
Demarcation of area (map works only in some browsers)